93111 47267

(International Learners dialling from outside India, please prefix country code +91)

Duration - 3 Month, 8-10 hours/week

Course fee: -

INR 41000

This course is recognized by the National Skill Development Corporation, a PPP under the Ministry of Skill Development and Entrepreneurship of the Government of India. You will receive a certificate cobranded by NSDC and Skill India on successful completion.
Introduction
Are you HR looking for higher management roles or you want to migrate to a developed country or explore the world as a digital nomad and there seems to be no clear pathway?
Are you a HR student/ retired HR professional in need to have a supplemental side income? Are you a parent who needs more time to spend with their family without giving up on their career?
HR professionals forced to work in a dead end job or opportunities to earn well as an HR in your city/town have shut their doors on you, wanting to explore the freelance market
Are you struggling to work with international labour consultants/ lawyers regarding sexual harassment (SH) matters in your organisation? Is it difficult to understand the logic behind their advice? Do you feel the need to understand SH laws yourself to coordinate more effectively?
Are you an HR consultant (or do you want to become one)? Do you want to add new and highly profitable services to offer your clients?
Are you stuck in a situation where a lot of complex and challenging things fall on your plate by default but you were never trained to handle them?
Have people told you that only HRs from top B-schools can get faster growth or work with MNCs and international startups?
Key Highlights
This course enables you to build your profile as a key international sexual harassment at workplace problem solver and work with fast-growing early stage startups in developed economies as a well paid freelancer/ Strategic HR
You don't have to be a software engineer, data scientist or have a degree from a top B-School to earn well - having skills and building profile in the ways taught in this course are always in great demand
We can help you to get freelance work/ remote opportunities and even migrate to countries like US, UK, etc. that enable you to earn well while having time for your family and loved ones or travelling around the world.
We will teach you to make the most in demand profile that will make you very attractive for fast-growing startups and digital businesses such that they would be delighted to hire you as strategic HRs/ sexual harassment at workplace issues expert as you make their life easier and growth faster
All the skills to do such work can be learned in 3 months provided that your exposure and understanding of Indian POSH law is up to the mark which will help as a base for understanding international sexual harassment at work place laws
3 months, 2 hours a day, that is all we ask from you to master these skills. You will also get a recognized certificate from National Skill Development Corporation and Skill India upon successful completion of assessment criteria.
We have helped more than 10,000 students and professionals from India to get remote jobs and freelance work in the US, UK, Canada, Europe, Australia, the Middle East and other places. You could be our next success story!
Who should take this course?
Aspiring digital HR leader looking to work with startups in developed economies
HR consultants who want to expand their clientele internationally
HRs looking to migrate to advanced economies eventually
Retired professionals looking for a part-time gig and with interests in HR work specifically related to sexual harassment
If you are struggling to earn enough as an HR manager or feel stuck in a dead-end job, or stuck in mid-level management positions
If you are an HR professional living in a small town or villages and do not find good job opportunities locally
If you need to stay at home for personal or medical reasons but you want to earn by working on the side
Fresh HR grads and college students who want to become financially independent
What is unique about this course?
This is a very practical course - you will practical get insights on creating amazing profile to get remote and freelance opportunities hands on by experts who have helped thousands of students to do so
We will train you to identify and show the most high demand tasks in your profile so that you can hit the ground running
You will become a trained expert having in-depth knowledge of international sexual harassment laws
The course is not limited to a provision-by-provision study of some statutes and associated case laws.
The course trains you on different kinds of actual work that is required to be performed by strategic HRs, HR managers, CHROs, freelance HRs, HR consultants, etc working with MNCs in India and startups in high growth sectors throughout the world.
You will get to practise real international sexual harassment at work place related work through practical assignments based on real life work in various countries
After finishing the course, you will know as much practical knowledge as a strategic HR/ CHRO working at a top international startup would be expected to have after a 5 years of experience.
You get massive placement support - we help you to source jobs, apply for them, write great proposals, use social media for finding opportunities, building a track record, and even train you for interviews
If you work hard, we will help you to embark on an exciting and well paid career in next 3 months
Money-back guarantee
If you take this course, follow it diligently for a month, attend all the classes, do all the exercises but still do not find value in it, or not able to understand or follow it or not find it good for any reason, we will refund the entire course fee to you. It is a 100% money-back guarantee with only one condition, you must pursue it properly for a month. If you don't find it valuable after that, get your entire money back.
Training Methodology

Online 24/7 access
Access to basic study material through an online learning management system, Android and iOS app

Hard Copy Study Material
Hard copy study material modules to be couriered to your address

Practical Exercises
2 practical exercises (in 1 assignment) every week, followed by written feedback on your submissions

Live Online Classes
Based on the exercises, there will be a live video-based online class. You can ask questions, share your screen, get personal feedback in this class.

Convenient Class timings
Classes are held after regular work hours. Typically classes are kept on Sunday afternoon or 8-9 pm on other days.

Live Doubt Clearing
You can ask questions, get your doubt cleared live as well as through online forums

Placement
Placement assistance for securing job and internship opportunities and assistance for securing freelancing opportunities
Certificate
This course is recognized by the National Skill Development Corporation, a PPP under the Ministry of Skill Development and Entrepreneurship of the Government of India and Skill India. You will receive a certificate co-branded by NSDC and Skill India on successful completion.
This is how the certificate from NSDC and Skill India will look as per the current applicable format (may change as per the approval authorities):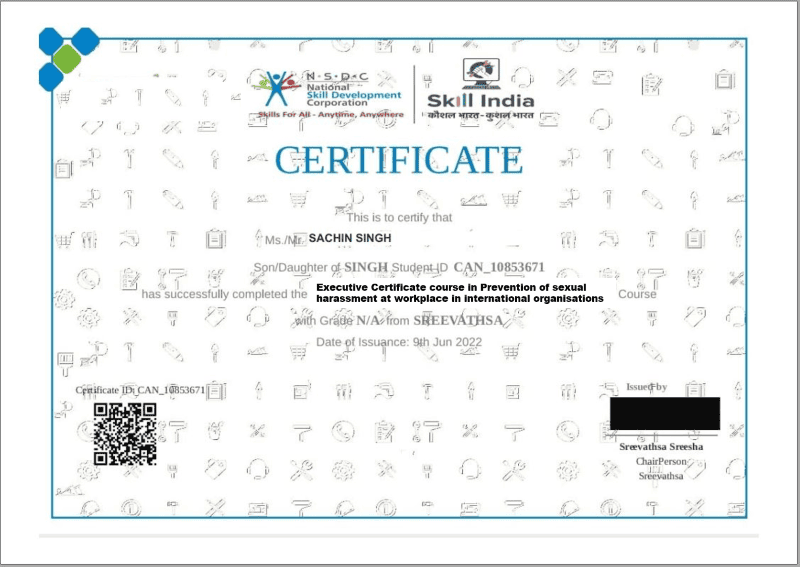 Freelance opportunities & Placement Support
Many employers, law firms and companies are happy to recruit our high performing students.
If you do well in your exercises and classes, we can help you to get freelance projects, jobs, internships and assessment internships in good law firms, with renowned lawyers as well as in various companies and rising startups.
We will guide you on how to improve your profile through various career development sessions over the duration of the course. Such career development sessions are aimed at improving your CV and profile on LinkedIn and freelancing platforms to increase your reach to the potential recruiters or clients, interview skills (including mock interviews), provide guidance on the application process, and even on how to start your own consultancy practice.
You can also schedule one on one consultations with our placement cell.
We share multiple internship/ recruitment opportunities every week on our Whatsapp group.
Our mentorship helps students to avoid running in the rat race behind the regular job openings; rather we help them design their own path based on their personal interests.
We share multiple and diverse client opportunities with our pool of practising students on a daily basis. Our references have helped several HRs advocates really scale up their practice. The opportunities range from drafting policies and employment agreements, performance management to handling complete human resources of an organisation as an digital strategic HR leader.
Syllabus
How to comprehend anti-sexual harassment laws of a new jurisdiction in under 3 hrs

What acts and rules are applicable

What are compulsory obligations, compliances and filings of organisations with respect to prevention of sexual harassment at their workplace

What kinds of locations/scenarios/venues/contexts are covered within sexual harassment

Is travelling to/from the office/working from home included? What is the line between workplace and personal spaces

What kinds of actions are within the scope of sexual harassment? What is excluded?

Is the law/policy wider than sexual harassment? Are bullying or other gender-based discrimination covered?

Are men/transgender population included within sexual harassment?

Standard obligations/duties of the organisation
- Obligation to train workforce
- Obligation to notify employees
- Other forms of compliance and filings required

Requirements pertaining to the hearing/inquiry process

Liability/consequences of non-compliance for organisation and top management

Interim remedies that can be awarded to the complainant

Punishments for sexual harassment

Confidentiality requirements
Statutory framework, rules and regulations pertaining to sexual harassment in USA, UK, UAE, Canada and Singapore

UK:
- Equality Act
- Protection from harassment act 1997

US:
- Title VII of civil rights act

Singapore:
- Prevention of Harassment Act

UAE:
Federal Decree Law no 33 of 2021

Canada (Federal + Ontario):
- Canada Human Rights Act
- Canada Labour Code
- Guidelines of the Employment and Social Development Department
- Occupational Health and Safety Act (Ontario)
- Human Rights Code of 1990
How to create an anti-sexual harassment compliance blueprint from scratch for a specific country

How to read the statutory provisions as an HR professional

Prepare a standard list of expected obligations that are common

Identify the statutory framework and update your list

Prepare a checklist for every unit/office/branch

Implement each obligation at the local level

Sample compliance blueprints/SOPs
How to draft an anti-sexual harassment policy (at global level and at country level)

How to draft a global anti-sexual harassment policy

Essential conditions of any standard policy
- What constitutes sexual harassment as per policy and where it extends to matters not covered by law
- Manner of reporting complaints
- Rights of complainant
- Rights of defendant
- Policy is gender neutral or not
- Provision of safety of victim and interim actions
- Provisions to ensure false complaints
- Provisions to avoid gossip and spreading of matter in organisation
- Provisions to protect organisation's reputation and matter getting discussed on social media
- Consequences for someone disclosing information in violation of law and policy

What are the specific statutory requirements under laws of the US, UK, UAE, Canada and Singapore?

What are the typical inclusions that are made in addition to the statutory framework of the organisation?

What are the standard ways to sensitise employees and obtain their consent to the policy and any updates?

How to perform country-specific modifications to the anti-sexual harassment policy

Templates of country-specific anti-sexual harassment policies
Compliance requirements and employer's responsibility

What kinds of registers are to be maintained in the US, UAE, UK, Canada and Singapore?

How to navigate state-level framework for Canada (Ontario, British Columbia), US and zonal frameworks in UAE for free trade zones, DIFC, etc.

What are the mandatory statutory obligations of organisations under US, UAE, UK, Singapore and Canadian law? What are the similarities and differences?

What are the appropriate ways to maintain records of training and certification of employees?

What are the registered to be maintained?

What kinds of incidents need to be reported?

What other kinds of compliance requirements or filings are required at annual and other intervals?

Country-level compliance checklists

Which country-level departments/authorities are in charge?
Training and certification of employees and management

What are the requirements for training and sensitisation of employees, management and any inquiry committee members in US, UAE, Canada, UK, Singapore and Dubai?

How frequently should training be conducted?

Tracking and measurement of training and certification of various stakeholders

How to report completion of training in various annual compliance documents

What are the best practices for conducting refresher training?
What is the process after a SH complaint comes into your notice (with country specific provisions)

What is the manner in which complaints can be received?

What is the immediate next action to be taken upon receipt of complaint

Step-by-step overview of the inquiry process in each country

Interim measures to be taken under US, UK, UAE, Canadian and Singapore law

Possible conditions and scenarios for settlement/conciliation

When should the complaint be forwarded to police/investigative agencies?

What are the principles for conducting hearings, inquiry and decision-making What organisation level actions and measures will be taken once the accusation is proved against an employee

What mechanisms should be administered to maintain confidentiality?
Media and reputation management of the organisation if the matter comes in limelightHow to perform periodic sexual harassment audits to evaluate the organisation's effectiveness with compliance

Relevance and need for SH audits

Methodology for audits
- Interviews
- Identifying potential threats
- Identifying incidents which might be happening but not reported
- Identifying implementation roadblocks
- Identifying if the policy, documentation, registers, filings, reports and other requirement is non compliant with any provision of law
- Identifying if there is any change or amendment in the applicable law and it is implemented or not
- Evaluation of existing mechanism and making improvements wherever required
- Understanding management's stance about SH incidents in organisation

How to write audit reports

How to improve your compliance, training and other initiatives based on audit findings
Course Plan
Standard
RS. 41000
incl. of all charges
Instructor led course with online live classes
Online exams (give exams as per your convenience on given time slots)
2 online live class/ week (12 weeks)
2 practical exercises per week (12 weeks - total 24 Exercises)
Hard copy certificate (by courier)
Printed study material (by courier)
Course completion criteria: Complete 50 percent of the total exercises (12 exercises to be completed) along with MCQs test.
3 content writing assignments (optional)
Get digital access to entire study material
Access on LMS, Android & iOS app
Instructor-feedback on assignments
Doubt-clearing on Discord, LMS & classes
Placement assistance for internship, jobs and referrals CV enhancement
Networking opportunities with other students & alumni and further guidance on professional networking
Training for writing and publishing articles, making profile and taking work on freelance platforms, etc
Access to updated content online for 3 years
Doubt-clearing within 24 hours