93111 47267

(International Learners dialling from outside India, please prefix country code +91)

Duration - 3 Month, 8-10 hours/week

Course fee: -

INR 42000

This course is recognized by the National Skill Development Corporation, a PPP under the Ministry of Skill Development and Entrepreneurship of the Government of India. You will receive a certificate cobranded by NSDC and Skill India on successful completion.
What is unique about this course?
This course is an introductory course focussing on corporate governance for Independent Directors.
Apart from practical lessons, you will have access to numerous templates.
You will learn through our unique teaching methodology, comprising classes, exercises and in-line feedback on your submissions. You will have 1 weekly class of 1 - 1.5 hours and perform 2 exercises in each class. In a week, you will acquire 2 skills.
Any doubt regarding a topic shall be addressed within 24 hours.
In the span of the course, you will need to perform 12 assignments (or 2 simulation exercises) relating to different contracts and contract-related letters, including the invocation of force majeure in light of the COVID-19 outbreak.
To pass the course, you must complete at least 50% of the assignments and attempt an MCQ test. The average study time required is about 1 hour per day, at your own place. If you miss a class, you can watch a recording.
Money-back guarantee
If you take this course, follow it diligently for a month, do all the exercises but still do not find value in it, or not able to understand or follow it or not find it good for any reason, we will refund the entire course fee to you. It is a 100% money-back guarantee with only one condition, you must pursue it properly for a month. If you don't find it valuable after that, get your entire money back.
Training Methodology

Online 24/7 access
Access to basic study material through an online learning management system, Android and iOS app

Hard Copy Study Material
Hard copy study material modules to be couriered to your address

Practical Exercises
2 practical exercises every week, followed by written feedback. There will be in class exercises, take home exercises, chapter wise MCQs and even some individual capstone projects

Live Online Classes
Based on the exercises, there will be a live video-based online class. You can ask questions, share your screen, get personal feedback in this class.

Convenient Class timings
Classes are held after regular work hours. Typically classes are kept on Sunday afternoon or 8-9 pm on other days.

Live Doubt Clearing
You can ask questions, get your doubt cleared live as well as through online forums
Certification
This course is recognized by the National Skill Development Corporation, a PPP under the Ministry of Skill Development and Entrepreneurship of the Government of India. You will receive a certificate cobranded by NSDC and Skill India on successful completion.
This is how the certificate from NSDC and Skill India will look as per the current applicable format (may change as per the approval authorities):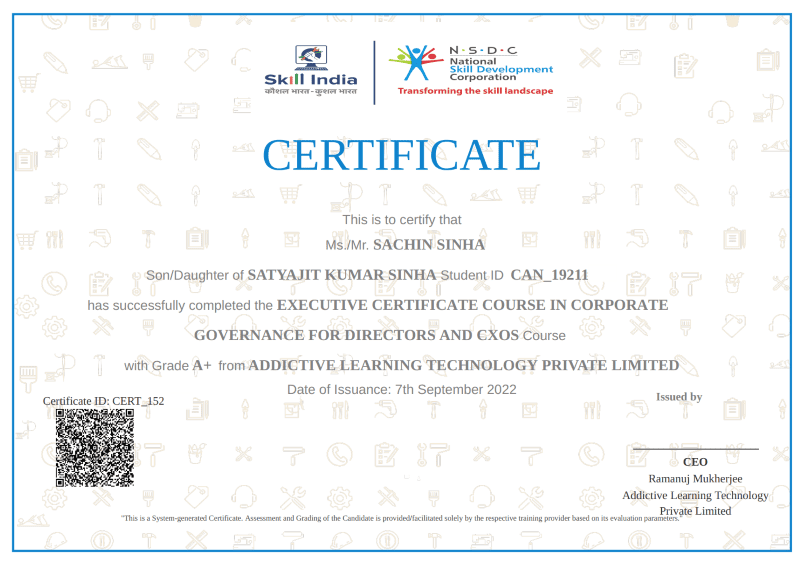 List of Weekly Exercises
Week 1: Preparation of Checklist for implementation of Corporate Governance in a startup
Week 2: Preparation of an Induction kit to improve Corporate Governance amidst the Board
Week 3: Devising Board evaluation technique to correct corporate governance problems
Week 4: Identifying suitable internal control systems for an organization to enhance corporate governance
Week 5: Reviewing/Formulating the key policies under Companies Act 2013 to ensure good governance
Week 6: Preparation of report/presentation on building "Vigil mechanism" in a company
Week 7: Preparation of checklist for "Compliance Risk Management Programme" as a part of collective governance and compliance discipline
Week 8: Preparation of Board Governance Guidelines/Masterkey for an organization
Week 9: Drafting and reviewing minutes of meetings, explanatory statements, board resolutions and internal policies for independent directors; Collecting information from MCA website and filing compliance forms.
Week 10: Preparation of employment agreements for CXOs and executive level employees.
Week 11: Drafting Directors report
Week 12: Drafting explanatory statements for appointment of independent and managing directors
Industry Academia Panel
CS GAURAV PINGLE,
Practising CS, Author - Handbook on Securities Laws, RPTs, Virtual Meetings, Interests: Corporate Governance & FEMA
CS PALLAVI PARIHAR,
Fellow Company Secretary. Academician
CS KALYANI SHIRODE,
Company Secretary, Authored books for Taxmann Publications
Online Faculty
Syllabus
CONCEPT AND FRAMEWORK OF CORPORATE GOVERNANCE

Meaning & Concept of Corporate Governance

Elements of Corporate Governance

How is Management different from Ownership

How to implement corporate governance in a startup
BOARD EFFECTIVENESS, ETHICS AND GOVERNANCE

Business Organisation Structure

Code of Conduct & Code of Ethics

Governance and Board of Directors

Board meetings - legal aspects

Board meetings - best practices

Checklists for Board meetings by video conferencing

India Inc needs a two-tier board structure for effective corporate governance

Shareholders meetings - legal and governance aspects

Checklist for holding an annual general meeting

Chairman's scripts for Board and General Meetings

Convening of meetings by video conferencing and postal ballot

Dealing with a company - guide for third parties

Board calendar

Corporate governance and internal policies

Internal reporting and escalation mechanisms

Committee formation and governance

Audit Committee

Nomination and remuneration committee

Stakeholders relationship committee

How to manage contracts

Managing litigations for and against a company

Governance of foreign companies doing business in India

Governance norms for government companies

Governance of non-profit companies
HOW TO OBTAIN INFORMATION ABOUT A COMPANY

Securing information about a company from MCA website

How to find out directors and registered office

How to find out other directorships of directors

How to extract MOA and AOA

How to extract special resolutions

How to extract return of share allotment post investment

Charge-related filings and their relevance

Annual financial statements

How to convert XBRL statements into readable form

Obtaining information from stock exchange & company website:
- Annual reports and annual financial statements
- Information to stock exchange under listing agreement
- Continuous disclosures
- Shareholding patterns
- Information about promoter pledges
- Information about non-disposal undertakings
DIRECTORS AND KEY MANAGERIAL PERSONNEL & THEIR LIABILITY

Appointment of directors

Different types of directors - Executive, Non executive, Nominees, Independent directors

Role and responsibilities of a Chairman

Role and responsibilities of CEO. COO, CFO

Independent directors

Code for appointment of independent directors

Role and responsibilities of Company Secretary

Registers and records required to be maintained by Companies

Managerial remuneration

Drafting employment agreements for CXOs

Draft minutes: First board meeting

Draft minutes: Accounts approval meeting

Draft resolutions

Board and committee terms of reference

Draft internal policies

Registers

Checklists for:
- Appointment of Directors,
- Appointment of CXOs,
- Draft resolutions
- Draft Managing Director / CXO appointment agreements
LIABILITY OF DIRECTORS

Liabilities of Directors and officers in default

Directors and officers liability insurance

Strategic insights from Cyrus Mistry's exit

Fraud and white collar crime: Criminal and other risks for directors

Criminal Provisions and Directors' Liability Under Regulatory Statutes

MLM Business Structure and Direct Selling Guidelines - this will need to be updated
INTER-CORPORATE TRANSACTIONS AND RPTS

Related party transactions

How to deal with conflicts of interest

Holding and Subsidiary companies - Introduction

Holding and Subsidiary Companies- Advanced Reading

Transactions between holding and subsidiary entities

Governance of joint ventures

Inter-corporate transactions

Issues related to related cross-border entities

How to draft subsidiary governance manuals

Checklist for entering into a related party transaction

Draft resolutions for approval of related party transactions

Noting of disclosure of interest in the minutes

Draft subsidiary governance manual

Draft legal entity management policy
CAPITAL MARKETS AND SHARE RELATED DEALINGS

Capital Markets in India

Sources of Finance
- Rights Issue
- Private placement of shares
- Transfer of shares
- Buybacks

Creating incentives for employees
- ESOPs / Sweat Equity
- Role of clawback provisions

Issue of depositary receipts

Insider Trading

Dividend payout norms

Bonus issues

Checklists
- Draft resolutions:
- Issue and transfer of shares,
- Board and General Meeting Resolutions for Buyback
- Buyback of shares,
- Payment of dividend
- Draft explanatory statements
- Creation of ESOP / Sweat Equity scheme
- Draft ESOP scheme
SEBI REGULATIONS APPLICABLE TO LISTED ENTITIES

Governance in listed companies

IPOs and regulation of listed companies

How and When You Can List
- Performance Criteria
- Issue Size
- Pricing
- Securities that can be issued
- Treatment of outstanding convertibles and warrants before issue

Agreements to be executed for listing

Minimum Public Shareholding Norms

Listing Obligations and Disclosure Requirements (LODR) Regulations

Independent Directors and Clause 49 of Listing Agreement

Continuous Listing Requirements & Listing Agreement

How to comply with Insider Trading Regulations

Unfair Trade Practice Regulations

Introduction to Takeover Code
- Open Offer Thresholds
- Takeover Process
- Exemptions
- Legal Work around takeover Code

How do employees gain from listing?

Delisting regulations
ROLE OF AUDITORS AND CORPORATE FRAUD

Why should Independent Directors know about accounts and financial statements?

Accounting and the law

Corporate fraud: Punishment, detection and reporting

Auditors: Appointment, role and removal

Auditor independence

Interface of the accounting standards with the Companies Act

Specific sections of an annual report

How to compound violations of Companies Act, SEBI Act and Regulations

Powers of ROC, RD, SFIO, ED

Important notifications and circulars

Draft directors report

Draft resolutions and forms for appointment of auditors
Course Plan
Standard
RS. 42000
incl. of all charges
Printed study material (by courier)
1 online live class/ week (12 weeks)
2 practical or drafting exercises per week (12 weeks)
Get digital access to entire study material
Access on LMS, Android & iOS app
Instructor feedback on assignments
Doubt clearing on Discord, LMS & classes
Instructor-led course with online live classes
Online exams (give exams as per your convenience on given time slots)
Certificate (by courier)
Access to updated content online for 3 years
Doubt clearing within 24 hours