93111 47267

(International Learners dialling from outside India, please prefix country code +91)

Duration - 6 Month, 8-10 hours/week

Course fee: -

INR 60000

This course is recognized by the National Skill Development Corporation, a PPP under the Ministry of Skill Development and Entrepreneurship of the Government of India. You will receive a certificate cobranded by NSDC and Skill India on successful completion.
This course is for those who want to learn how to get remote international opportunities from fast-growing startups as HRs.
This course is of great help to someone who is looking for growth in the current job or wants to upskill in this fast-paced industry
Whether you are a beginner, intermediate or already have some expertise & experience in the field of HR but want to acquire mastery, we will take care of your learning needs. For absolute beginners we have special classes to bring them up to the mark.
We do not teach theories and case studies of HR in this course beyond passing references where you need to know. The focus is on practical skills so you can do real work/freelancing work that is done in companies, startups, MNCs. For that, whatever you need to learn, we will teach you.
In 24 weeks, master 50+ most important and most sought-after professional skills
The focus here is on practicing knowledge of skills, getting that evaluated and improving on the same.
Learn to draft important legal documents like Employment Contracts, ESOP amongst others in multiple jurisdictions like USA, Dubai, Singapore etc..
Attend two live sessions a week for 6 months, and work on realistic assignments that you will face in real-time situations.
Get one-on-one feedback on the policies and strategies you prepare.
Also, get trained on how to draft different policies and employee handbooks to streamline HR process in any organization
Get internships, freelance work, and jobs based on skills we discuss in class.
HR professionals/Freshers who are struggling to earn well or get a well-paid job, this course can really help you. Learning professional skills can rapidly change your earning potential.
Learn practical insights from industry experts, some of them with decades of experience, and get your doubts cleared on the spot.
Get access to 200+ high quality templates that you can actually use to work with clients
Learning objectives of this course
To learn about the role of SHRM in a digital first organisation

From perspective of HR
From the perspective of a startup founder/ CXO, and that of a managing partner of a law firm
How graduates, MBAs, lawyers and HRs can assist international organisations with HR-related work
To understand techniques to get international remote opportunities from fast growing startups as HRs
Learn skills to handle complete work of an HR in a digital first organisation
How to reach top positions in organisations being an HR and help them to survive in crisis situation
Getting confidence to handle technology required to do such work
What is unique about this course
This course is focussing on strategic HR for Startups.
Apart from practical lessons, you will have access to numerous templates.
You will learn through Skill Arbitrage's unique teaching methodology, comprising classes, exercises and in-line feedback on your submissions. You will have 1 weekly class of 1 - 1.5 hours and perform 2 exercises in each class. In a week, you will acquire 2 skills.
You will be given an opportunity to work on one writing assignment during the term of the course that shall be published on the iPleaders blog if it meets our specifications.
Any doubt regarding a topic shall be addressed within 24 hours.
In the span of the course, you will need to perform 4 assignments (or 8 simulation exercises) relating to assisting digital first fast growing international startups.
To pass the course, you must complete at least 50% of the assignments and attempt an MCQ test. The average study time required is about 1 hour per day, at your own place. If you miss a class, you can watch a recording.
Success stories
Here is a Skill Arbitrage student doing this for a startup based in Finland, on recruitment-related work, project management and other projects:
Faiz Ehsan, (our learner since August 2021), a college student.
He started by earning INR 20-25K per month and jumped to USD 1200/ INR 1 lakh per month in about a year - he does recruitment-related work, project management and other research and writing work!
Anindita Mani, HR manager in a company in Kolkata, has already started getting paid work, and worked on 7 assignments on Fiverr, in less than 2 months!
She has received more opportunities and has turned down some opportunities because she is already in a full-time job.
Kranti Yeole, lives in Mumbai, has about 10 years experience in HR and was serving notice in her job.
She followed our coaching and got her first lead within three weeks of the course with a Mumbai-based company, with whom she starts work next month and will earn INR 1000/hr, for setting up HR and accounting processes including policies, payroll documentation, accounting process, compliance applicability and operational process.
Sunetra Mukherjee lives in Kolkata and has over 13 years of experience in the HR profession, with a core HR generalist profile. She has obtained her full-time BBA and MBA degrees from Burdwan University.
She had to take a break of nearly 4 years from her career, she wanted to join back.. After studying our course for 3 months, she was able to get an opportunity with a company at a 40% hike.
Under her contract, she is free to pursue remote work as long as it does not conflict with official responsibilities. She also does remote freelancing work for a few other companies in her free time for example Pinnacle Digital Analytics Pvt Ltd. Many Organisations she is associated with as a Recruitment partner like GKB opticals in Kolkata, Jayanta Lamps in Kolkata and Swadesh Softwares in Durgapur etc.
Maksuda Monir, final year law student from Dhaka, Bangladesh, works for 2 long-term clients and also performs independent projects from Upwork and Fiverr.
She is not an HR professional but she has still worked on remote HR projects.
When she was still in college, she started working remotely for a part-time Marketing Officer at ARC287BC Corporation, a research company which works on bicycle tech, based in New Jersey, United States and did administrative and recruitment-related work - she assists them in finding freelancers, and earns USD 300 per month. Since she is a lawyer now, she does legal work for them.
Hiring talent for freelance writing work, social media management, engineers, researchers from Upwork and especially Fiverr.
She also works with other clients.
She also earns USD 150 per month (for 50 hours of work) by working for a long-term client whose products she lists on Amazon.
Anjali Suneja is Strategic and innovative HR with 13+ years of experience in translating business vision into HR initiatives. Over the past few months she has initiated the process and below are some of actions she have undertaken:
For a resort in Jaipur Anjali has been able to draft the policy, helped them to constitute ICC, employee sensitising training and orientation of ICC members are going on.
On Linkedin, one HRBP from a reputed hospital of Ahmedabad (Shrimad Rajchandra Hospital and Research Centre-SRHRC) approached her for reviewing their Anti Sexual Harassment policy and constitution of ICC and he appreciated for the same.
She have 3 client meetings in the pipeline in the second week of March 23, to discuss POSH Implementation at their workplaces.
She have also initiated the process for getting associated with Jaipur WICCI (WOMEN ́S INDIAN CHAMBER OF COMMERCE AND INDUSTRY) ANTI SEXUAL HARASSMENT COUNCIL.
She has recently been approached by "Metis-POSH Consulting Service LLP", for an associate position as freelance POSH trainer.
She is also in discussion with TPOs form management institutes of Jaipur, to get associated as a POSH Faculty/guest lecturer. She believes this will help to bring awareness at the root level for future HR Managers.
Let me show you our students who have started achieving these results
Young professional who migrated to Canada in less than 2 years
Chaitali Bagai, a 2021 graduate from Jyoti Vidyapeeth Women's University, Jaipur started performing freelance work after learning skills and obtaining assistance from our team for various projects for international clients. She then shifted to Canada and is working as a recruitment coordinator at CT Bakery (owns Bread Talks brand), Toronto Ontario, Canada.
A recent graduate who performs domestic freelance work in HR
Srishti Mishra, lives in Varanasi, graduated in 2020 from Galgotias University and joined our course in January 2023, received her first lead from a startup HisabKaro in 1 week, did employer branding work on a pro bono basis and also secured a paid content-writing gig with a company dealing in B2B and Vendor Management.
Yes - that is how fast you can get results if you work hard with Skill Arbitrage!
Mid-career professional who started a pan-India consultancy firm
Prachir Sogani, who was running an HR consultancy in Jaipur but was restricted to low-end HR compliance work for Rajasthan-based clients, added 8 new high-value services (drafting, HR documentation, responses to statutory authorities, disciplinary proceedings, etc.) and started serving clients on a pan-India basis, and multiplied his income by several times.
Senior Professional who became a CHRO/HR Head
Ruchi Ahluwalia, HR head at Scania Commercial Vehicles and Carl Zeiss, got a job with Quess Corp, a listed company that is India's largest private sector employer (employs 400,000 people), as a CHRO within 1 year of joining our courses and learning the skills.
Asgar Ali, a Safety Officer in a Factory, became an HR head in 1 year, and is heading 2 plants at a Heavy Engineering Company ISGEC which employs more than 1000 workers and has a turnover of over 5500 crores!
Professionals who obtained a salary increments/new jobs
Sonika Panghal started studying with us last June. After 4 months of learning HR compliance skills, she received a new job offer and got a hike of 25%! She also received a remote content writing part-time job as well.
Biswajit Bhattarchya has been working in HR compliance for the past 11 years now. After 3-4 months of enrolling in our course, he secured a job offer in a new company in the petrochemicals space (changed sectors) and received a 40% increment in salary!
Swati Sinha is a 2005 BBA graduate. She is based in Bengaluru and is a Co-founder and Director of consulting firm JobsCubicle, The firm mainly is an Executive Search firm for the recruitment and placement of top talent with its clients in the IT, ITES, Telecom, FMCG, Financial Services, Banking, Real Estate and Manufacturing Industries etc.
Though she had a well-established firm, she joined the SkillArbitrage course to Upskill herself and grow her firm further.
She started working on an exercise shared in the course and within 2 weeks she got a new client named Nexturn, a Hyderabad-based startup that deals in software and digital transformation of their clients. She directly got connected with the CEO of the company and now has started assisting him with recruitment. The interviews of candidates are in the final stage and she will be paid once the process of recruitment is over.
She learnt new methods of how to outreach international clients and help them, she will now be working on revamping her LinkedIn and also be regular on it, as she now knows that these strategies can give good results and help her grow their client base.
Money-back guarantee
If you take this course, follow it diligently for a month, do all the exercises but still do not find value in it, or not able to understand or follow it or not find it good for any reason, we will refund the entire course fee to you. It is a 100% money-back guarantee with only one condition, you must pursue it properly for a month. If you don't find it valuable after that, get your entire money back.
Training Methodology

Online 24/7 access
Access to basic study material through an online learning management system, Android and iOS app

Hard Copy Study Material
Hard copy study material modules to be couriered to your address

Practical Exercises
2 practical exercises every week, followed by written feedback. There will be in class exercises, take home exercises, chapter wise MCQs and even some individual capstone projects

Live Online Classes
Based on the exercises, there will be a live video-based online class. You can ask questions, share your screen, get personal feedback in this class.

Convenient Class timings
Classes are held after regular work hours. Typically classes are kept on Sunday afternoon or 8-9 pm on other days.

Live Doubt Clearing
You can ask questions, get your doubt cleared live as well as through online forums
Certification
This course is recognized by the National Skill Development Corporation, a PPP under the Ministry of Skill Development and Entrepreneurship of the Government of India. You will receive a certificate cobranded by NSDC and Skill India on successful completion.
This is how the certificate from NSDC and Skill India will look as per the current applicable format (may change as per the approval authorities):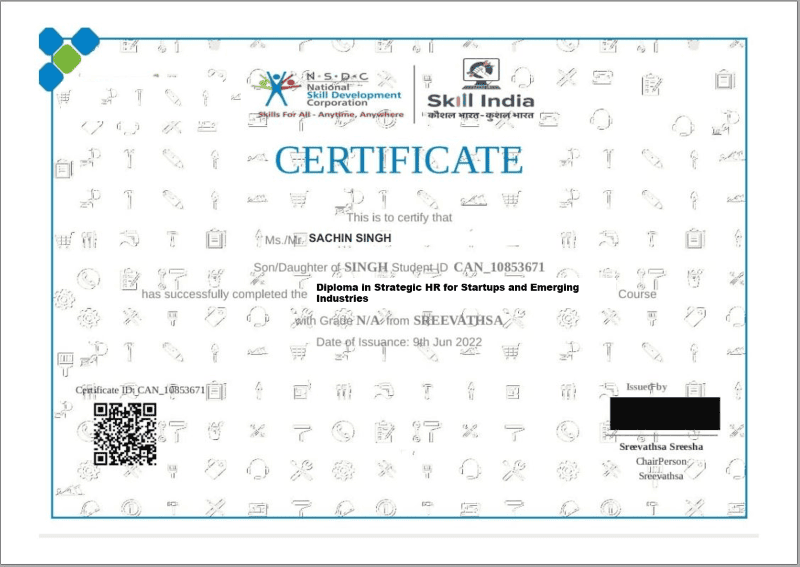 Here are some of our faculty members
Testimonial to course
How Skill Arbitrage has benefited me professionally
I am a software engineer who wanted to change careers but wasn't sure how to go about doing it.
At that point, I learned about and enrolled in the Diploma in Strategic HR course offered by Skill Arbitrage.
I began applying the practical learning strategies on myself since I truly loved the idea of them.
I began contacting prospective clients in an effort to find work. I was often rejected, but I persisted, and eventually I was hired to write content for a startup, which led to another job producing social media material for a startup.
I then began to apply for freelancing positions on Upwork and was hired as a recruitment manager in a UK company.
The mentors at Skill Arbitrage were the ones that supported, encouraged, and pushed me to take a step forward on my own and launch a daring freelance career.
I've had three freelancing chances in the last five months, which I've taken on in addition to my day job.
I would be happy recommending the courses and faculty at Skill Arbitrage to help you in building your career better and bigger.
"I can't wait to tell you about my amazing Skill Arbitrage experience. Let me give you an explanation if you are a gifted and experienced person who is questioning why you should join Skill Arbitrage. The Skill Arbitrage team, especially my course Anchor, Mr. Rishee Rudra, and Upwork Mentor, Ms. Amrita, proved to be crucial in aiding me in successfully securing a project despite your previous abilities and knowledge. I can't say enough nice things about them. They mentored me till I reached my objectives, supplied me with cutting-edge technology, constant inspiration, and direction. And when I finally succeeded, they joined me in celebrating my victory. This, in my opinion, is exactly what we all require: a community that is empowering and helpful."
I feel glad while sharing my experience and would highly recommend this course to my HR mates.
How SkillArbitrage helped in achieving success?
I attended the bootcamp in December by the Skill Arbitrage team. At that time I was actively looking for a course which can really help me to practically implement skills apart from teaching conceptual knowledge. | After the bootcamp,I enrolled for a Diploma in Strategic HR course. As the course progressed,I learnt that this platform is not just another teaching platform,the team here is very dedicated towards helping you achieve your goals. | It first started with teaching some basic concepts and then on every Friday the team used to take a further review on which clients we have pitched to for HR services. Obviously,it is not just about the outcome but the team really helped in overcoming the obstacles along the way such as client objections, how to reply to clients,which platforms we should pitch our services to and how to make a strong profile on those platforms. | The team at Skill arbitrage has been a pillar of support throughout and now also. I have regular meetings with them on resume,Upwork, Linkedin and on full time opportunities. | All of them have only one motive:To make you skilled and make your life better. | I have achieved a good amount of success from this course and am looking for the best opportunities now with their help. | I highly recommend that people should join their course because it's not just merely a course,it's much more than that. | Special thanks to Rishee,Kiran Dahiya,Aastha, Kiran Mandari, Priyanka, Shivani from Skill Arbitrage and Law Sikho for always being there and helping us.
Syllabus
Introduction to SHRM

What is SHRM? HRM vs. SHRM

What are the key aspects to focus on in SHRM?
- Hiring and recruitment
- Onboarding
- Performance management

How does SHRM completely change the process of hiring and what is the most important work he does?

What are the pillars to success in hiring?

What is the most important work in onboarding?

What is the most important work in performance management?

In-class exercise:
- Practise developing a 20-second elevator pitch to explain how you can help a startup entrepreneur
- Create a customised message / cold email that you will send startups
- Identify at least 3 activities that you already know
- Group project - Class will be divided into groups of x learners each, with each group having at least 1 representative from HR, finance, business, marketing & legal/compliance (add domain-specific reps as required based on situation) - to prepare a joint report on forecasting for an entity which needs to scale up 2x in 1 year

Suggested take-home exercises:
- Reach out to 10 startups with your pitch
- Write an article/ prepare samples of how you can contribute to startups
Hiring and recruitment

Recruitment process
- Using tech, media, job sites and other channels to acquire talent pool
- Available platforms for hiring and how to create listings: Upwork, Fiverr, LinkedIn, Naukri, JobsForHer, etc.
- Paid ads vs. free
- What kind of posts should be put up on LinkedIn to source candidates?
- Building & maintaining talent database for future use
- How the recruitment process is different for freshers vs. experienced candidates
Take home exercise
- Prepare a checklist of where a start-up which manufactures parts of an e-vehicle engine should make their job posts, listings and ads for hiring an engineer and a factory manager, and based on this checklist, prepare job posts and listings.
- Prepare checklists, job posts and listings for all the JDs you have prepared last week, and suggest these to the start-ups you pitched to. If no one has responded to your pitch, pitch to 5 more start-ups, and include checklists, job posts and listings in your pitch.

Selection process: Assessing & shortlisting candidates
- What questions should you ask in a preliminary screening or to test other qualities in a person?
- Shortlisting and selection process, interviewing
- Whether the person has a problem solving nature
- Whether the person goes out of comfort zone
- Whether the person has consistency/dedication
- Whether the person shows sufficient attention to detail or not
- Whether the person has solved the problem earlier
- Whether the person is interested in working with the organisation on a long-term basis
- Whether the person can handle difficult conversations
- How to check for cultural fit
- Behavioural assessment (Briggs Myers testing) or other kinds of tests
- Deployment of scenario-based tests to understand a person's tendencies
- Identifying medical and mental conditions of the person
Take-home exercise:
- Prepare a questionnaire for hiring an analyst for a start-up that provides cloud services.
- Prepare questionnaires for all the job posts you have prepared last week, and suggest these to the start-ups you pitched to. If no one has responded to your pitch, pitch to 5 more start-ups, and include customised questionnaires in your pitch.

Technical assessments and closing the hiring process
- Technical assessments
- Trial tasks and trial periods (paid and unpaid)
- Soft skills and other attributes
- Whether the person can communicate properly
- Whether the person is honest
- Whether the person has overall alignment with the organisation's goals
- Deployment of scoring criteria before you hire
- Topgrading methodology
- Verification - background, references, documentation
- Closing the hiring process and salary negotiation
- Communicating rejection appropriately
- What to do if candidates complain on social media regarding not receiving a response
Take-home exercise
- Prepare an appointment letter and consultancy agreement for a research associate and a finance associate in a nutraceutical start-up.
- Prepare appointment letters and agreements for the open positions you have been discussing with the start-ups you pitched to. If no one has responded to your pitch, pitch to 5 more start-ups, and include a sample of your work in your pitch.
Onboarding, orientation and support

Interviewing founders and capturing the mission and vision statement and values of the company

Documentation of functional trainings by interviewing key employees or team heads or recording them train people

Deployment of an LMS/communications platform like Basecamp/Notion or Slack for communication, maintaining policies, updated organisational charts, etc.

How to create functional orientation and trainings to that new hires hit the ground running in 7 days

How to manage in-house knowledge and create an L&D process for continuous improvement

Orientation and Ensuring team bonding - introduction to the organisation, vision, mission, values, etc., introduction to the teams, buddy systems, important policies of the company, organisational cha

Ensuring that new joinee is fully equipped and comfortable with company resources and softwares

Ensuring approachability of HR and managers in remote first environment

How company culture in every employee impacts company brand

Alignment of individual employee goals with the organisational goals

Take-home exercise
- Prepare an onboarding checklist for a content writer in an ed-tech start-up.
- Prepare onboarding checklists for the open positions for which you prepared appointment letters last week, and send them to the start-ups you pitched to. If no one has responded to your pitch, pitch to 5 more start-ups, and include a sample of your work in your pitch.
Performance management

Tracking performance and setting metrics
Principles for tracking performance
- Outcomes produced
- Time spent at work
- Effort put in
Review of software:
- Timedoctor and Hubstaff (measure time spent on computer, and loopholes), call recording software to measure sales caller effectiveness,
- Use of software for the same: Mesh, Weekdone, ZOKRI
- Drawbacks of absolute reliance on software and how to create custom MIS
- Techniques for ensuring productivity in a remote environment
Setting metrics:
- What metrics are important for crucial functions: Marketing, sales, tech, product, operations, finance
- KPIs and KRAs
- OKR
Take-home exercise
- Prepare the metrics of a sales associate in a tech start-up which designs customised communication software for corporates.
- Prepare the metrics for the positions you made onboarding checklists for last week, and send them to the start-ups you have been speaking with. If no one has responded to your pitch, pitch to 5 more start-ups, and include a sample of your work in your pitch.

Performance assessment and feedback processes
- How to set up a daily and 2-hourly tracking system
- Preparation of an MIS
- Identifying skill vs will issues for non performing employees
- What to do when expectations and metrics are not met
- Making performance improvement plans for employees - firing vs supporting and training
- Setting expectations
- Weekly meetings
- Feedback processes: 1:1s with the manager, anonymous, skip-level, 360 degree, etc
- Matching the skills with the requirements of the work
- Rewards and recognition programs
- How to configure a grievance management system
Take-home exercise
- Prepare a 360 degrees feedback process for the HR Head of a start-up that produces niche luxury cosmetics.
- Prepare a 360 degrees feedback process for the positions for which you created metrics last week and send them to the start-ups you are speaking with. If no one has responded to your pitch, pitch to 5 more start-ups, and include a sample of your work in your pitch.

Letting go of people - firing vs letting go
- What are the most common mistakes made while letting go of people?
- How to maintain documentation and records of non-performance and communicate it effectively
- How to identify where people/teams are unproductive
- How to let go of people smoothly
- Setting up an exit-interview process and administration of exit memos
- Implementation of learnings from exit interviews
- How to manage effective handover in remote settings
- What to do in case of breach of confidentiality or defamation, or an employee who wants to violate notice period or other requirements
- Ensuring good feedback from ex employees on glassdoor and other platforms
- How to handle bad feedback or defamation on social media by outgoing/ ex-employee
Take-home exercise
- Prepare an action checklist for an ITES start-up where an ex-employee is claiming that the start-up stole the IPR to a code he created.
- Prepare a sample exit memo for the start-ups you pitched to and share with them. If no one has responded to your pitch, pitch to 5 more start-ups, and include a sample of your work in your pitch.
Rewards and recognition and retention measures

Retention measures:
- Promotions & career path development
- Perks, allowances & benefits
- How to design effective performance-based incentives
- Administration of rewards and recognition
- Engagement activities
- ESOP
- Ensuring mental satisfaction in addition to monetary and materialistic rewards
- Ensuring that people have balance of repetitive and challenging work so that it is not over exhausting/ over challenging and at the same time it is not too boring
- Ensuring people feel heard and connected with organisation
- Gossip and office politics control measures in remote work environment
- Upskilling and further trainings
- Balancing job security with competitiveness
Take-home exercise
- Prepare a proposal for incentives for the operations team of an e-commerce start-up which has very high attrition.
- Prepare 3 suggestions for team-building and employee engagement activities for the start-ups you pitched to and share. If no one has responded to your pitch, pitch to 5 more start-ups, and include a sample of your work in your pitch.
How to measure hiring effectiveness

What are the indicators to measure hiring effectiveness?
- What your team is saying about you - employee NPS and how to measure it
- What ex-employees are saying on the internet
- Attrition rate
- Labour efficiency ratio
- Cost per hire, cost per failed hire

Take-home exercise
- Prepare an employee NPS questionnaire for a start-up that provides customer-service outsourcing services to an international company in the USA which sells premium mobile phones.
- Prepare and share a sample employee NPS questionnaire for the start-ups you are speaking with. If no one has responded to your pitch, pitch to 5 more start-ups, and include a sample of your work in your pitch.
Compliance & Policies

Basic legal requirements: Min. wages, working hours, leave, overtime, local requirements

Case study of foreign laws: Dubai, Singapore, Ontario, UK

Toolkit of essential organisational policies:
- Leave and attendance
- Equal opportunity/non-discrimination policy, anti-sexual harassment policy)
- Diversity, equity and inclusion policy
- Policies on fraternisation and dating colleagues
- Conflict of interest
- Remote work policy
- Code of Conduct
- Whistleblower policy
- Communication policy
- Data security policy
- Anti-corruption and bribery policy
- Device and access control policy

Key aspects of employment agreements that you should know about: IP assignment, non-compete, non-solicit, & confidentiality

Important legal documents you should know about:
- Appointment letter
- Employment contract
- Incentive plans
- ESOP plans
- Various kinds of notices, emails and letters

How to engage with lawyers on HR-related projects and initiatives

Take-home exercise
- Prepare a device and access control policy for a private equity fund start-up.
- Prepare and share leave and attendance policy or remote work policy (as applicable) for the start-ups you are speaking with. If no one has responded to your pitch, pitch to 5 more start-ups, and include a sample of your work in your pitch.
How to find international remote work projects around strategic HR

How to find international remote work projects around HR

How to use freelancing platforms like Upwork and Fiverr

How to create a compelling profile on Upwork and other platforms

How to write an effective proposal

How to determine a pricing for your time

How to build your track record and collect testimonials

Best practices for securing projects
Course Plan
Standard
RS. 60000
incl. of all charges
Printed study material (by courier)
1 online live class/ week (24 weeks)
2 practical or drafting exercises per week (24 weeks)
1 optional writing assignment
Get digital access to entire study material
Access on LMS, Android & iOS app
Instructor feedback on assignments
Doubt clearing on Discord, LMS & classes
Instructor led course with online live classes
Online exams (give exams as per your convenience on given time slots)
Certificate (by courier)
Training for writing and publishing articles
Networking with other students & alumni
Access to updated content online for 3 years
Doubt clearing within 24 hours