93111 47267

(International Learners dialling from outside India, please prefix country code +91)

Duration - 6 Month, 8-10 hours/week

Course fee: -

INR 56250

This course is recognized by the National Skill Development Corporation, a PPP under the Ministry of Skill Development and Entrepreneurship of the Government of India. You will receive a certificate cobranded by NSDC and Skill India on successful completion.
Introduction
There are literally thousands of ways you can try to improve your spoken and written English and communication, including taking numerous online and offline courses.
By all means, you should try them out. Learn how to order breakfast in English at a five star restaurant, or find out the best ways to open a conversation with someone at a party, or learn how to draft a flawless business letter.
Will that serve your purpose of working remotely with high potential international startups, getting promotions, collaborating effectively with global teams, and making effective presentations to foreign clients and the senior-most management?
If you have any doubts, just do a quick google search and you will find a lot of generic courses for learning English, that are perhaps more suitable for teenagers learning a new language, but not created specifically for working software engineers.
It is a routine story that software engineers try to learn English from a generic English course, and then fail to even stay interested because what they learn is clearly not what they needed to learn.
Why?
You know the answer as well as I do. Honestly, I cannot think of a single generic English language course that will teach you what you actually need to learn as an international professional or remote worker.
Now what if there was a course where you started fine tuning your English communication by conveying technical information in correct English in specific business situations typical for working with international clients and remote work,such as:
Requirement gathering and analysis
Client meetings
Creating client proposals
Performance reviews
Professional presentations
Pitching to international clients
Resolving disputes within the team
Stand up meetings and feedback meetings for your own team
Inspiring and influencing your peers and team
Using social media to get more opportunities
Learning objectives of this course
The objective of this course is to enable you to communicate effectively using corporate English communication in the most important work contexts faced by international professionals and remote workers on a day-to-day basis.
Learn how to:
Interact with international clients in English at an offsite location
Write technical documentation and manuals in English for a global customer base
Present reports, analyses, client proposals, and reviews
Negotiate with senior management and colleagues, or perform other management functions
Find the right, precise words so that your conversation is not full of awkward pauses and fillers
Display superior and persuasive communication skills during important job interviews
Go past the stagnation in entry-level or mid-level jobs because of superior skills
Access international opportunities as a remote freelance worker who can serve clients across the globe
What is unique about this course?
This is NOT a generic course on improving your English accent or general talk, or breakfast ordering skills - it directly focuses on improving your day-to-day client communication to succeed professionally, based on real-life scenarios.
Apart from practical lessons, you will have access to numerous templates to use so that you can improve your daily communication.
You will learn through Skill Arbitrage's unique teaching methodology, comprising classes, exercises and in-line feedback on your submissions.
You will have 3 weekly classes of 1.5 hours and perform 3 assignments every week. You will learn 2 skills and conduct outreach with potential clients every week.
Any doubt regarding a topic shall be addressed within 24 hours.
To pass the course, you must complete at least 50% of the assignments and attempt an MCQ test. The average study time required is about 1 hour per day, at your own place. If you miss a class, you can watch a recording.
Money-back guarantee
If you take this course, follow it diligently for a month, do all the exercises but still do not find value in it, or not able to understand or follow it or not find it good for any reason, we will refund the entire course fee to you. It is a 100% money-back guarantee with only one condition, you must pursue it properly for a month. If you don't find it valuable after that, get your entire money back.
Training Methodology

Online 24/7 access
Access to basic study material through an online learning management system, Android and iOS app

Hard Copy Study Material
Hard copy study material modules to be couriered to your address

Practical Assignments
In-class assignments, 3 practical assignments every week (including real life outreach assignments) to develop your skill sets and apply them in the real world

Live Online Classes
Based on the assignments, there will be a live video-based online class. You can ask questions, share your screen, and get personal feedback in this class.

Convenient Class timings
Classes are held after regular work hours. Typically classes are kept on Sunday or 8-9 pm on other weekdays or Saturday.

Live Doubt Clearing
You can ask questions, get your doubt cleared live as well as through online forums

Feedback methodology
Group feedback during classes by the instructor, In-line feedback by a trained evaluator, Improve week on week with feedback, use assignments as work samples on remote work platforms or in job interviews
Certification
This course is recognized by the National Skill Development Corporation, a PPP under the Ministry of Skill Development and Entrepreneurship of the Government of India. You will receive a certificate cobranded by NSDC and Skill India on successful completion.
This is how the certificate from NSDC and Skill India will look as per the current applicable format (may change as per the approval authorities):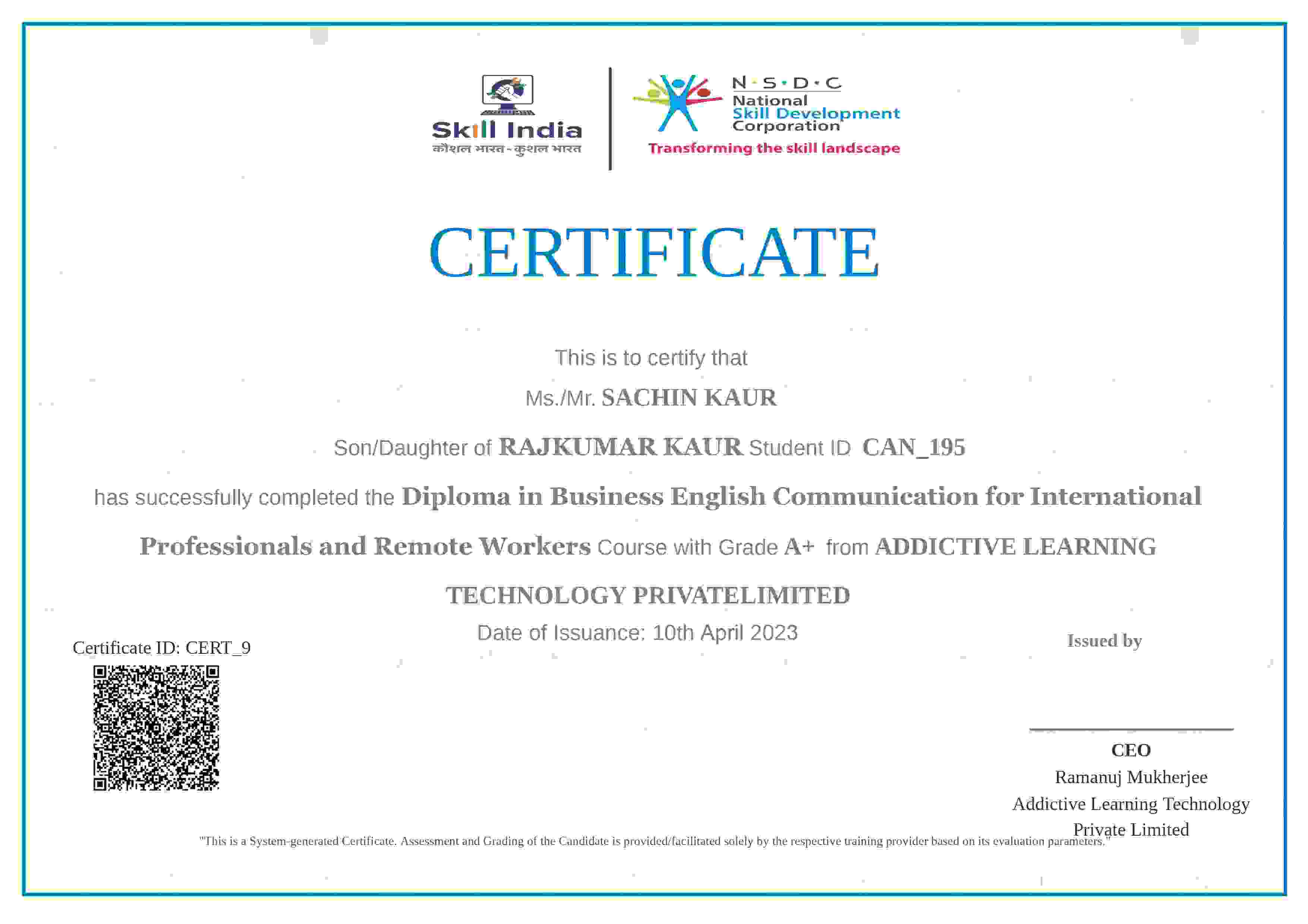 Online Faculty
Syllabus
Introduction and Basic Grammar

Course Introduction
Course objectives and overview
Initial assessment of English proficiency

Basics of English Grammar
Review of verbs, tenses, nouns, adjectives, adverbs, prepositions, and articles
Sentence structure, types and common mistakes

Business Vocabulary
Introduction to basic business vocabulary
Vocabulary exercises and quizzes
Written Communication

Email Communication
Email etiquette and conventions
Writing clear, concise and professional emails
Responding to emails effectively

Report Writing
Structure of a report
Using appropriate language and tone
Proofreading and editing

Proposal Writing
Understanding the structure and purpose of business proposals
Writing effective proposals
Proposal presentation and review
Oral Communication and Presentation Skills

Basics of Oral Communication
Pronunciation, accent, intonation, pace, and pauses
Listening exercises and practice

Business Presentations
Presentation planning, structure, and content
Using visuals effectively
Presentation delivery techniques

Public Speaking
Building confidence in speaking
Overcoming public speaking anxiety
Techniques for effective public speaking
Interpersonal and Cross-Cultural Communication

Interpersonal Communication
Understanding verbal and non-verbal communication
Conflict resolution and negotiation skills
Assertive communication and active listening

Cross-Cultural Communication
Understanding cultural differences in communication
Adapting communication style to different cultures
Case studies of international business communication
Telephone and Video Conference Communication

Telephone Communication
Telephone etiquette and conventions
Effective listening and speaking over the phone
Handling difficult calls

Video Conference Communication
Video conferencing etiquette and conventions
Effective visual and verbal communication in video calls
Managing technical issues
Professional Development and Review

Interview Skills
Preparing for job interviews
Answering common interview questions
Follow-up after interviews

Professional Networking
Effective communication at networking events
Building professional relationships
Using social media for networking
List of practice assignments

Write a short essay on a recent technology development or a technology of interest which can be published as an article.

Write a formal email to a client discussing a recent issue and its resolution.

Draft a brief project progress report for an ongoing technology project.

Write a project proposal for a fictitious software development project.

Write a response to a request for proposal (RFP) provided.

Prepare and deliver a 5-minute presentation on a specific technology or project for a non-tech startup founder or an SME business owner and answer questions

Explain what kind of resources you will need if the solution needs to be scaled 100x or if more complexity is added

Deliver a 3-minute project update on video that can be shared with stakeholders

Prepare structured written notes in connection with a project update that you will send after the video for the client's board/investors.

Prepare a product walkthrough/demo explaining how your tech product works.

Write a response to an email where the client appears to be upset with your turnaround time or quality of work, scheduling time with relevant stakeholders to explain your stance.

Practice communicating your stance on audio/video in 3 different ways so that you are comfortable articulating it in a meeting.

Write a response to an email where the client has issued a last minute change request and you need to reject the same politely.

Have a conversation on an audio call to address each of the above concerns separately.

Where you plan to incorporate change requests/change your way of working, send a new plan to align the client.

Participate in a mock conference call where you have to troubleshoot a client's technical problem.

Write and practise oral delivery of answers to common interview questions in your specific niche of work - both technical and HR-oriented.

Create a LinkedIn profile and write an introductory message to a prospective employer or client.

Create a 2 minute video CV for platforms like Upwork.

Compile a portfolio of all the written assignments and presentations you have made.
Course Plan
Standard
RS. 56250
incl. of all charges
Instructor led course with online live classes
3 online live classes per week (6 months)
Get digital access to entire study material
Printed study material (by courier)
1 speaking and writing/presentation based assignment based on a real-life scenario in the IT industry/ startups + 1 outreach assignment
Instructor feedback on assignments
One-on-one in-line evaluations
Access on LMS, Android & iOS app
Doubt clearing on Discord, LMS & classes
Online exams (give exams as per your convenience on given time slots)
Certificate (by courier)
Assistance to secure placement opportunities and remote freelance work
Networking opportunities with existing students & alumni
Coaching for expanding your professional network
Interview preparation support
Content access for 3 years
Doubt clearing within 24 hours